WOW AWARD
Posted on: 31st January 2015
LEAGUE VOLUNTEER CHRIS RECEIVES 'WOW' AWARD
Torbay League of Friends volunteer Chris Evans has received a 'Wow' award from South Devon Healthcare Trust after the phlebotomy department described him as 'a Godsend'.
Chris's normal duties involve working as a volunteer guide showing patients where to go for appointments.
But he has become a firm favourite with the phlebotomy department for helping out delivering samples and products around the site.
The department nominated him for the prestigious award saying he was 'always cheerful and friendly' and always 'goes above and beyond' to help out.
A department spokesman says: 'Often Chris saves a member of the team from leaving their medical duties to make a collection or delivery and that helps the smooth running and efficiency of the department.
'He is so helpful, he rings us up to ask if there is anything that needs doing'.
Dave Rogers, the League Chairman, presented Chris with his award and paid tribute to his willingness to help out where needed.
'All our volunteers give up their time willingly and it is wonderful to see both the department and the Trust recognising Chris's help in this way'
Chris said: I'm very honoured but I see the award as going to all the League members and volunteers who give up their time.
'Both the staff and the volunteers are a pleasure to work with.'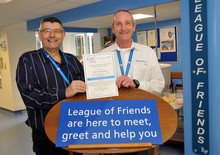 Volunteers
If you would like to become a volunteer helping in our coffee shop or guiding service, please contact June or Pat, volunteer organisers at the League of Friends office on level 2 opposite main reception.
01803 654 520
Donate Now
Thank you for anything you can give, all contributions are very much appreciated.