WE HAD A BALL!!!
Posted on: 26th October 2016
The League had a fantastic time at it's Celebration Ball on Friday 14 October at the Imperial Hotel Torquay to celebrate reaching one of it's biggest targets to date £1.6 million for the new critical care unit. The hospital was represented by Sir Richard Ibbottson Chairman of the Foundation Trust; Mairead McAlinden CEO Torbay Hospital and Dr Rob Dyer Medical Director of the Foundation Trust, plus many representatives from the hospital.
Lynne Hookings chairman of Wellswood district who organised the event said that the evening raised more than £5000.00 for the League whose work will now continue in supporting other departments wish lists which is already in excess of £800,000. So the fundraising NEVER STOPS.
Our sincere thanks to all our supporters and friends and to The imperial Hotel.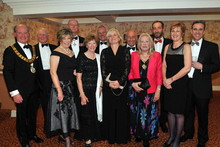 Volunteers
If you would like to become a volunteer helping in our coffee shop or guiding service, please contact June or Pat, volunteer organisers at the League of Friends office on level 2 opposite main reception.
01803 654 520
Donate Now
Thank you for anything you can give, all contributions are very much appreciated.