WAITROSE CUSTOMERS
Posted on: 02nd February 2015
WAITROSE CUSTOMERS HELP RAISE £353 FOR LEAGUE
Waitrose customers played a big part in raising more than £350 for Torbay Hospital League of Friends in their quest to raise £1.6million to help equip the planned new Critical Care Unit at the hospital.
Every customer who passes through the checkout is given a little green token which they can drop in a series of boxes to choose which charity receives cash from the store.
Waitrose's Mark Elmer said: 'The League was hugely popular, as always, and we are thrilled to help raise funds for this vital unit'.
League Chairman Dave Rogers said: 'Without the help of people like Waitrose and their customers we couldn't do our vital work.
'The people and businesses of Torbay are incredibly generous and supportive of our efforts'.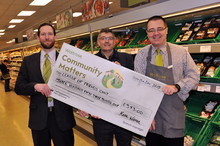 Volunteers
If you would like to become a volunteer helping in our coffee shop or guiding service, please contact June or Pat, volunteer organisers at the League of Friends office on level 2 opposite main reception.
01803 654 520
Donate Now
Thank you for anything you can give, all contributions are very much appreciated.