VALUABLE REST FOR BUSY DOCTORS
Posted on: 18th July 2017
With extraordinary demands becoming the daily norm and the challenge of tough shift patterns, everyone knows how hard our Doctors work. We were therefore delighted to be invited to pay a modest amount to provide something that will be very much appreciated. The refurbished Doctors' restroom gives on-call Doctors somewhere to catch up on lost sleep. So it's not always about dazzling high-tech equipment - sometimes a soft pillow and a bit of peace and quiet does the trick.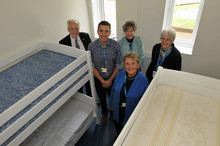 Volunteers
If you would like to become a volunteer helping in our coffee shop or guiding service, please contact June or Pat, volunteer organisers at the League of Friends office on level 2 opposite main reception.
01803 654 520
Donate Now
Thank you for anything you can give, all contributions are very much appreciated.