TRAFALGAR CELEBRATIONS
Posted on: 02nd November 2015
Chocolate Galleons depicting ships of the great Battle of Trafalgar formed a unique parade during a Celebration Dinner organised by the Wellswood District. The evening held at The Grand Hotel Torquay was a sell out, with Captain Henry Duffy RN from Britannia Royal Naval College and Mairead McAlinden CEO of Torbay Hospital attending as guests of honour.
Members of Torbay Sea Cadets provided a ceremonial guard of honour as guests arrived for dinner and entertainment for the evening was provided by The Back Beach Boyz from Teignmouth with their traditional sea shanties followed by dancing to The Swing Kings.
The evening was a great success for the CCU Appeal with over £4000 being raised and an array of prizes being auctioned and raffled on the night.
Our thanks go to all our friends and supporters who contributed to the success of the evening.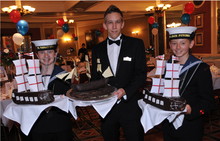 Volunteers
If you would like to become a volunteer helping in our coffee shop or guiding service, please contact June or Pat, volunteer organisers at the League of Friends office on level 2 opposite main reception.
01803 654 520
Donate Now
Thank you for anything you can give, all contributions are very much appreciated.