TORBAY SINGERS DONATION
Posted on: 12th January 2018
The Torbay Singers got their 50th Anniversary year off to a fantastic start with donation of the proceeds from their December concert at St Matthias Church in aid of Torbay Hospital Legue of Friends.
The concert was generously funded by Pauline Smith enabling the choir to hand over the total proceeds of £4,522 to the League. League President, Pat Roberts said: 'It was a wonderful gesture from Pauline. She named the League as her chosen charity because she has personally benefitted from the excellent treatment at Torbay Hospital'.
Our picture shows the choir handing a cheque to Pat Roberts and League Acting Chairman, Kathryn Westaway.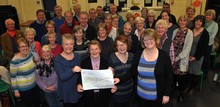 Volunteers
If you would like to become a volunteer helping in our coffee shop or guiding service, please contact June or Pat, volunteer organisers at the League of Friends office on level 2 opposite main reception.
01803 654 520
Donate Now
Thank you for anything you can give, all contributions are very much appreciated.