THIS IS CRITICAL LAUNCH
Posted on: 05th January 2015
An enjoyable Afternoon Tea was recently held at The Bayview Restaurant for League volunteers to launch the "This is Critical" appeal for the planned new Critical Care Unit. Joining them were representatives from hospital management and from the CCU.
We were very pleased to welcome Palm FM Radio who have chosen us as their nominated charity for 2015 to the launch, and the Herald Express who are also supporting the appeal and who generously supported our Diamond Anniversary year in 2014.
The hard work now begins to raise the £1.6 million required to equip the state of the art CCU.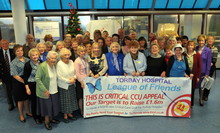 Volunteers
If you would like to become a volunteer helping in our coffee shop or guiding service, please contact June or Pat, volunteer organisers at the League of Friends office on level 2 opposite main reception.
01803 654 520
Donate Now
Thank you for anything you can give, all contributions are very much appreciated.