THE EYES HAVE IT!
Posted on: 11th September 2015
Torbay Hospital Eye Department is pleased to be able to open a dedicated Eye Surgical Simulation Lab after a generous donation from the Torbay Hospital League of Friends. Simulation is the way forward in surgical training. The ability to easily access realistic high and low tech simulation models is transforming surgical training, by prioritising patient safety, and improving the quality of training opportunities. The General Medical Council and the Royal Medical Colleges have recommended that simulation is used to support training, and will soon recommend that its use is mandatory. South Devon Healthcare Trust has always been ahead of the game in providing Simulation Facilities to trainees in the region, and the Eye Department is no exception, demonstrating its commitment to patient safety and the quality of the training it provides. This donation by the League of Friends to the Ophthalmology Department at Torbay Hospital has allowed the Department to remove any barriers to the uptake of simulation in training by providing a bespoke Simulation Lab for its simulation equipment situated right in the heart of the Eye Surgery Unit.
Ms Tamsin J Sleep, Consultant Ophthalmologist, Department of Ophthalmology, said "We are very grateful to the League of Friends for providing the funds to enable us to have this facility which is a tremendous help with our training programme"
Patricia Roberts, President of the Torbay Hospital League of Friends said " Some time ago we were left a sum of money to be used specifically as may be required by the Eye Department and I am delighted that we were able to use these funds for something as important as training for future doctors"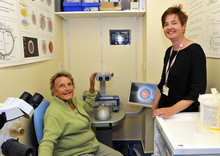 Volunteers
If you would like to become a volunteer helping in our coffee shop or guiding service, please contact June or Pat, volunteer organisers at the League of Friends office on level 2 opposite main reception.
01803 654 520
Donate Now
Thank you for anything you can give, all contributions are very much appreciated.