TEA & TOGS ...
Posted on: 04th April 2016
TEA AND TOP TOGS FOR THE LEAGUE LADIES
The Anchorage Hotel in Babbacombe was bursting at the seams – in the nicest possible way, of course – at a Spring Afternoon Tea and Fashion Show in aid of the Torbay Hospital League of Friends.
Organisers Shirley Weir and Gloria Scagell said that they raised more than £1,200 with their catwalk and cakes. And a handbag stall added the icing.
The gladrags were provided by designer Sally Allen of Babbacombe.
League of Friends volunteers at the Spring Cream Tea and Fashion Show at the Anchorage Hotel, Babbacombe. Pictured from left to right are organisers shirley Weir and Gloria Scagell, Joan Jones, League President Pat Roberts, Lyn McCaig and Linda Dewis.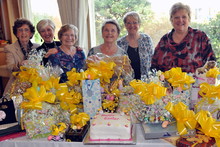 Volunteers
If you would like to become a volunteer helping in our coffee shop or guiding service, please contact June or Pat, volunteer organisers at the League of Friends office on level 2 opposite main reception.
01803 654 520
Donate Now
Thank you for anything you can give, all contributions are very much appreciated.