'TANKS' FOR THE CASH
Posted on: 23rd August 2017
There's something fishy going on at the Louisa Carey Children's Ward! The league splashed out £2,000 to replace the ward's iconic tropical fish tank.
Ward clerk supervisor, Jane Edwards said 'The old tank was falling to pieces so we were thrilled when the League came to the rescue. As soon as kids arrive on the ward they go straight to the tank - it's become a symbol of the ward.'
Philip White, League Secretary said 'When Jane came to us we took the bait and were hooked on helping her appeal. We trawled through our resources, reeled in what was neeeded and were delighted we could land the cash.'
More fishy donations (cash or jokes) are very welcome.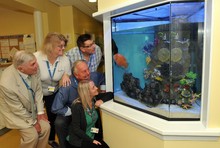 Volunteers
If you would like to become a volunteer helping in our coffee shop or guiding service, please contact June or Pat, volunteer organisers at the League of Friends office on level 2 opposite main reception.
01803 654 520
Donate Now
Thank you for anything you can give, all contributions are very much appreciated.