STAFF TRAINING IN CCU
Posted on: 01st March 2017
Two CCU members of staff receive training of the new state of the art equipment in one of the 14 units within CCU. The League are proud to have raised the £1.6 million through 'It's Critical' Appeal which has paid for all of the state of the art equipment enabling Torbay Hospital to have one of the most up to date Critical Care Units in the South West.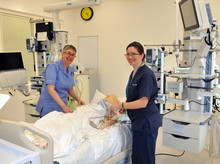 Volunteers
If you would like to become a volunteer helping in our coffee shop or guiding service, please contact June or Pat, volunteer organisers at the League of Friends office on level 2 opposite main reception.
01803 654 520
Donate Now
Thank you for anything you can give, all contributions are very much appreciated.