SINGING DERMATOLOGIST
Posted on: 29th February 2016
MEET THE SINGING DERMATOLOGIST
Forget the Singing Detective.....meet South Devon's singing dermatologist who found his voice to raise cash for Torbay Hospital's League of Friends.
Tom Morris was a Newton Abbot GP for 30 years before becoming a specialist in dermatology at Torbay Hospital two years ago.
'I was immediately struck by the amazing work done by the League of Friends and decided to put my passion to good use to raise funds for them'.
Tom, 57, is a member of the Devon Close Harmony Quartet, a locally based group drawn from some of the well known larger choirs in South Devon.
They performed as part of the Words For Voices concert at St Paul's Church in Devon Square, Newton Abbot on Valentine's Night.
'The concert was organised as a fund-raiser for the Torbay Hospital League of Friends in recognition of the enormous support they have given to the hospital.
'The result of their hard work benefits all of us and I would encourage everyone to have a look at their website and learn more about their activities.'
Tom has enjoyed many different forms and styles of music over the years and the quartet has been one of the most challenging and exhilarating.
'We cover a wide range of music from folk to classical; traditional barbershop harmonies to contemporary ballads. The songs we sing dove-tail in to the wonderful pieces presented by Words for Voices, creating a seamless theme of Love.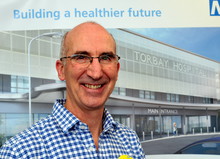 Volunteers
If you would like to become a volunteer helping in our coffee shop or guiding service, please contact June or Pat, volunteer organisers at the League of Friends office on level 2 opposite main reception.
01803 654 520
Donate Now
Thank you for anything you can give, all contributions are very much appreciated.