SCOTTISH SOCIETY REELING IN THE CASH
Posted on: 31st October 2017
League President Patricia Roberts and Acting Chairman, Kathryn Westaway accept a generous cheque from the Torbay and District Scottish Society for £800 towards league funds. The first donation received since announcing a new push to raise £1.3m to modernise the hospitals endoscopy equipment.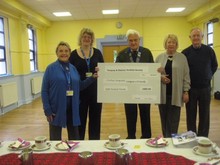 Volunteers
If you would like to become a volunteer helping in our coffee shop or guiding service, please contact June or Pat, volunteer organisers at the League of Friends office on level 2 opposite main reception.
01803 654 520
Donate Now
Thank you for anything you can give, all contributions are very much appreciated.