Riviera Sound
Posted on: 25th February 2015
Last Autumn we were proud to present a concert at Central Church featuring Riviera Sound - a local ladies choir who have enjoyed much musical success and have won many competitions since their formation.
They presented a most enjoyable evening of music - including music from the Back Beach Boyz and The Miners - which everyone enjoyed and as a result of their efforts, £610.00 was raised for the 'This is Critical' Appeal.
We are very grateful to Riviera Sound for their fantastic support in helping us to raise this amount of money.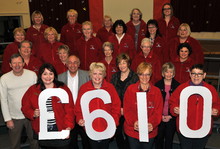 Volunteers
If you would like to become a volunteer helping in our coffee shop or guiding service, please contact June or Pat, volunteer organisers at the League of Friends office on level 2 opposite main reception.
01803 654 520
Donate Now
Thank you for anything you can give, all contributions are very much appreciated.