Raizer Chairs
Posted on: 24th January 2020
We have bought 6 Raizer Chairs to help nurses assist the nearly 400 patients esch year who have the misfortunes to fall within the Hospital. The chairs cost over £3,000 each, they reduce the time the patient is left on the floor. The raizer is compactand is literally put together around the fallen patient with minimal effort usually in under 3 miutes.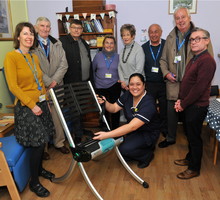 Volunteers
If you would like to become a volunteer helping in our coffee shop or guiding service, please contact June or Pat, volunteer organisers at the League of Friends office on level 2 opposite main reception.
01803 654 520
Donate Now
Thank you for anything you can give, all contributions are very much appreciated.