PRIDE of SOUTH DEVON
Posted on: 15th December 2015
Recently the League was invited to attend the Herald Express PRIDE OF SOUTH DEVON Awards 2015 held at the Imperial Hotel Torquay, at which we were nominated for the Community Group Award while Vice President Lynne Hookings was nominated for the Fund Raiser Award. There was stiff competition in both groups and firstly Lynne Hookings received the runner up in her group whilst the League won the Community Group Award! Our Chairman David Rogers was there to receive the award and said a few words in recognition of everyone's participation at the League in supporting the "THIS IS CRITICAL APPEAL"
The evening continued until the last award which was the Herald Express PRIDE OF SOUTH DEVON AWARD. The audience went quiet as the editor Jim Parker announced that the winner was TORBAY HOSPITAL LEAGUE OF FRIENDS!! Afterwards a proud chairman said that the award was for everyone in the League and it will hang alongside our Queens Award for Voluntary Service on Level 2 at the hospital.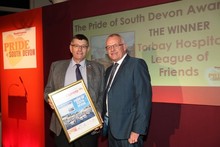 Volunteers
If you would like to become a volunteer helping in our coffee shop or guiding service, please contact June or Pat, volunteer organisers at the League of Friends office on level 2 opposite main reception.
01803 654 520
Donate Now
Thank you for anything you can give, all contributions are very much appreciated.