LEAGUE VICE PRESIDENT AWARDED
Posted on: 18th July 2017
It was an enormous pleasure to see one of our long-standing volunteers being recognised for her amazing efforts supporting the League and other local organisations. Vice President, Lynne Hookings, was admitted as an Honorary Freeman of the Borough of Torbay 'in recognition and appreciation of her contribution to the tourism industry in Torbay and her unceasing voluntary work for the NHS and Torbay Hospital League of Friends'. She received her award from the Chairman of Torbay Council, Councillor Ray Hill, at a special ceremony. Well done Lynne!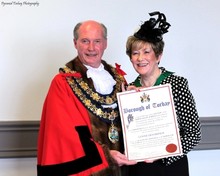 Volunteers
If you would like to become a volunteer helping in our coffee shop or guiding service, please contact June or Pat, volunteer organisers at the League of Friends office on level 2 opposite main reception.
01803 654 520
Donate Now
Thank you for anything you can give, all contributions are very much appreciated.