LEAGUE INSPIRES CHARLOTTE
Posted on: 26th October 2016
By Charlotte Tonge -Former Chairman of the Junior League
In 2011 I was honoured to be asked, by my Head of Sixth Form, to become the Chairman of the Junior League of Friends. At the time I knew very little of what this would entail, let alone the impact it would have on me in the future. However having now finished my degree with First Class Honours in Sport and Exercise Science (BSc) I have realised that I owe a lot of my success to the experience I gained with the LOF.
Very quickly I learnt that the League was full of hugely driven and dedicated individuals who expected the highest of themselves and of those they were working alongside. There was an atmosphere in Monday night meetings of - why not aim for the best no matter how crazy or perceivably impossible because if you surround yourself with the right people you can achieve anything. This was easily the biggest lesson I learnt. So as Chairman I organised large scale primary school events such as a skipathon and zumbathon – both events my school felt were overly ambitious. However the League believed in me and supported me every step of the way. This translated into my time at University where my personal tutor warned me to not take on too many roles in my final year and to focus on my studies. But I did not limit the expectations of myself and so undertook the roles of: Brighton University Hockey President, second year learning support tutor and Chairman of the University Sports Federation committee. It was thanks to my time in the LOF that I had the self-belief that I could time manage and be committed to all roles whilst still keeping up with my academia.
During my 3 years at Uni I have aimed to keep up to date with League events via social media and I am still in awe of what the League achieves year by year, we need look no further than the CCU appeal. On reflection for a 17 year old girl to be involved and welcomed into such an incredible and selfless group of people and to be a part of such a momentous occasion as receiving the Queen's Award I could not have been luckier. I really cannot thank all those who were part of my year enough and I hope you all realise that you did play a huge part in my degree success. Who knows I may be back on the committee sooner than you think!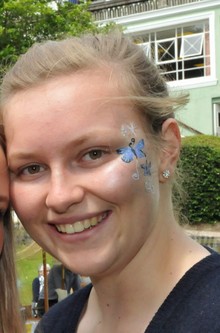 Volunteers
If you would like to become a volunteer helping in our coffee shop or guiding service, please contact June or Pat, volunteer organisers at the League of Friends office on level 2 opposite main reception.
01803 654 520
Donate Now
Thank you for anything you can give, all contributions are very much appreciated.