IT'S A BREEZE
Posted on: 09th March 2016
BREEZE PRESENTER BLOWN AWAY BY QUALITY OF HOSPITAL CARE
When radio presenter Matt Rogan handed over nearly £3,000 in cash to Torbay Hospital League of Friends, it was a poignant moment for him personally.
Because Matt has experienced first-hand the 'astonishing level of care' at the hospital after his father Jim, 65, was taken seriously ill.
Matt, the afternoon presenter on The Breeze radio station in Torbay, paid tribute to the 'incredible staff' at the hospital when he handed over the cash to League chairman David Rogers and vice president Lynne Hookings.
'My dad was rushed into hospital back in November in severe pain with pancreatitis.
'First he was cared for on Forrest Ward and then was rushed into intensive care where I have to admit it was touch and go for quite a while.
'Then he was released into Allerton Ward before being taken back into ICU and finally transferred to Derriford Hospital's critical care unit.
'Two weeks ago he finally came back to Allerton Ward and has been there ever since.'
He added: 'I cannot praise enough the standard of care he has received in both the wards and ICU – it was absolutely brilliant.
'I have just been blown away by the level of professionalism and the loving care he has received.
'The staff from Allerton Ward actually took the time to ring Derriford several times to see how he was getting on.
'Given how busy they are, that is absolutely outstanding'.
The League of Friends, who are currently trying to raise £1.6 million to equip the new Critical Care Unit, was adopted by The Breeze as their charity of the year. And the cash has been raised by several fund-raising efforts.
'But little did I know when it first started that I would experience the astonishing care and incredible staff at Torbay Hospital.
'And the League of Friends just epitomises everything that goes on behind the scenes to make it all possible.'
League Chairman David Rogers said: 'We were thrilled to receive the money from Matt and to hear his story. But that is only one of dozens of stories we hear from grateful patients and families every week.
'Torbay Hospital really is an amazing place.'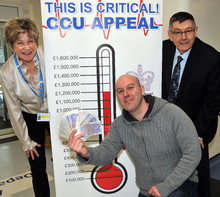 Volunteers
If you would like to become a volunteer helping in our coffee shop or guiding service, please contact June or Pat, volunteer organisers at the League of Friends office on level 2 opposite main reception.
01803 654 520
Donate Now
Thank you for anything you can give, all contributions are very much appreciated.