HALOS ANGELS COLLECT PENNIES
Posted on: 30th August 2018
Staff and customers at Halo Hair Designs and Heavenly [email protected], have joined in the latest craze in aid of the League - collecting pennies in plastic
Liz Andrews and her team have been filling plastic bottles and containers of all shapes and sizes with loose change form the till, their handbags and even down the side of the sofa
Along with dozens of individuals, shops and offices Liz's Angels have helped raise over £2000 so far
The more people that join in this fantastic campaign the faster the money grows. and every penny goes to the hospital.
Anyone wanting to join the scheme can get League of Friends stickers to put on their bottles.
Picture shows (left to right)
Tracey Dowell, Lynne Hookings, Jacqueline Ginley, Liz Andrew and Carla Richardson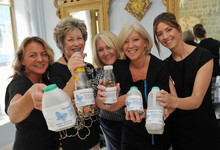 Volunteers
If you would like to become a volunteer helping in our coffee shop or guiding service, please contact June or Pat, volunteer organisers at the League of Friends office on level 2 opposite main reception.
01803 654 520
Donate Now
Thank you for anything you can give, all contributions are very much appreciated.