FRIENDS 'WOW'
Posted on: 15th March 2015
The League of Friends are 'WOW'!
After Gina was visited by her Doctor late on the 24th December she was admitted to hospital, waking up on EAU3 Christmas morning.
She was very touched to receive a Christmas Card and Diary from the League, she thought 'Wow' and then after her stay she nominated several area of the Hospital for praise. Now the whole League has received a 'WOW' award from South Devon Health Care Trust.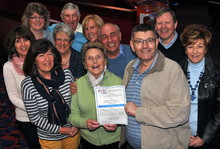 Volunteers
If you would like to become a volunteer helping in our coffee shop or guiding service, please contact June or Pat, volunteer organisers at the League of Friends office on level 2 opposite main reception.
01803 654 520
Donate Now
Thank you for anything you can give, all contributions are very much appreciated.