FRIENDS & FAMILY
Posted on: 29th February 2016
FRIENDS AND FAMILY BOOST FOR CARE UNIT FUND
The family of a lady who died in Torbay Hospital have handed over cheques for more than £600 to the League of Friends critical care unit appeal.
Mike Davies from Staverton lost his wife Joan to pneumonia on January 1.
'But we were so grateful for the amazing standard of care she received during those last few days that we wanted to give something back'.
Mike, who is pictured along with sons Robert and Peter, and Peter's partner Kirsty, held a service of celebration at St Paul De Leon church in Staverton, where the family have lived for nine years.
'We asked for no flowers, but for donations to be split equally between the church and the League.
'Joan was very well loved and everyone was extremely generous with their donations', said Mike.
The couple were best known in South Devon as the owners of the Kingsbridge motor dealers SMG Motors. They were also very well known in their home village of South Milton.
Mike said: 'Joan's sudden illness and death came as a complete shock. But from the moment we dialled 999, through the emergency operation she had on Christmas Eve, the level of service we had from the wonderful staff of Torbay Hospital was out of this world.
'We have always known the splendid work done by the League of Friends, and the importance of this Critical Care Appeal, and it means a lot to us as a family to be able to give a little back to this wonderful organisation'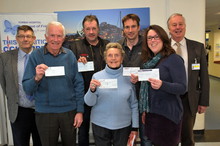 Volunteers
If you would like to become a volunteer helping in our coffee shop or guiding service, please contact June or Pat, volunteer organisers at the League of Friends office on level 2 opposite main reception.
01803 654 520
Donate Now
Thank you for anything you can give, all contributions are very much appreciated.