FOR CCU and ST GEORGE!
Posted on: 01st May 2015
Vice Admiral Sir Richard Ibbotson Chairman SDHCT is pictured addressing 'The Beef' presented by the Head Chef of The Grand Hotel Torquay at our St George's Day Celebration. The Beef was lead into the restaurant by St George and two Drummers from Torbay Sea Cadets. The fabulous evening raised around £5000. Everyone had a great time and our thanks go to all who supported the event including hospital staff and govenors, local councillors and our friends of the League. Finally, a special thanks to the Wellswood committee for all their hard work.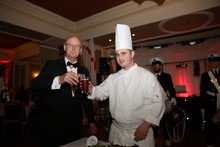 Volunteers
If you would like to become a volunteer helping in our coffee shop or guiding service, please contact June or Pat, volunteer organisers at the League of Friends office on level 2 opposite main reception.
01803 654 520
Donate Now
Thank you for anything you can give, all contributions are very much appreciated.