FIBROSCANNER
Posted on: 19th October 2018
Two friends have raised more than £10,000 towards a portable Finroscanner, which is already changing the lives of patients.
After the death of a friend and husband form liver cancer, Carol Pailing and Lyn Smith decided to get to work raising funds, with the help of Sun Dial Lodge Care home and Rotary they managed to raise the impressive sum. Then the League topped up the cash to purchase this valuable piece of equipment.
Dr Keith George, Senior Consultant Gastroeenterlogist, said "Years ago the only way of checking for liver cancer was a biopsy, which was painful and unpopular with patients. then we bought the scanner, which literally changed the lives of many hundreds of local patienrts. Now having this portable scanner will take us one step further, allowing us to take it into wards, health centres and even patients homes."
The picture shows Lyn Smith holding the Scanner along side the much larger fixed version, Carol couldnt be there for the presentation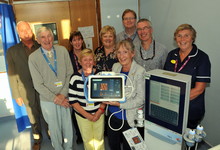 Volunteers
If you would like to become a volunteer helping in our coffee shop or guiding service, please contact June or Pat, volunteer organisers at the League of Friends office on level 2 opposite main reception.
01803 654 520
Donate Now
Thank you for anything you can give, all contributions are very much appreciated.