FASHION SHOW
Posted on: 30th May 2015
Spring Fashion Show
Torbay Hospital League of Friends were delighted to welcome over 90 people to their Spring Fashion Show held at the Horizon Centre at Torbay Hospital. The Frock Exchange of Preston provided a stunning collection of day, special occasion and evening wear. The clothes were modelled by volunteers from the League of Friends, together with models supplied by Maggie Instrall from The Frock Exchange. Several were modelling for the first time and put on an excellent show.
Music and lighting was provided by Peter 'Mac' Dell, who also entertained with a selection of easy-listening classics. Backstage they were lucky enough to have Rachel from The Cutting Room who worked her magic and ably created several changes of hair style to complement the outfits.
The evening was enjoyed by all who attended and raised almost £700 towards equipment for the League's 'This is Critical' project. The League would like to thank everyone who contributed to the success of the evening. For details about Torbay Hospital League of Friends please visit www.thlof.co.uk or contact the Secretary, Philip White on 01803 298170.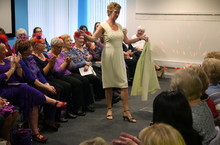 Volunteers
If you would like to become a volunteer helping in our coffee shop or guiding service, please contact June or Pat, volunteer organisers at the League of Friends office on level 2 opposite main reception.
01803 654 520
Donate Now
Thank you for anything you can give, all contributions are very much appreciated.