DOUBLE YOUR MONEY
Posted on: 30th May 2015
ROTARY PLAY 'DOUBLE YOUR MONEY' FOR LEAGUE APPEAL
Paignton Rotary Club took a leaf out of TV quizmaster Hughie Green's book with their own version of the 60's favourite 'Double Your Money'
On Friday the Rotarians promised Torbay Hospital League of Friends £1000 towards their £1.6 million Critical Care Unit Appeal.
But by the time President Derek Brown came to present the cheque on Monday – it had doubled to a whopping £2,000!
'We raised the money at a crab supper at the Spanish Barn for 200 people', said Derek yesterday.
'But when we came to do a final count up of raffles, auctions and very generous individual donations, we found we could double the money to £2,000.
'I felt just like Hughie Green!'
Events chairman John Hopkins said: 'We'd even written out the cheque. But when it came to it, we had to cross out the 'One' and put 'Two'. I just hope the bank accepts the alterations!'
The League's Lynne Hookings said: 'Never were so many crabs scoffed in such a good cause.
'A few weeks ago we had a 'chish and fips' supper in aid of the appeal, and now we've gone a little upmarket.
'So if anyone fancies a charity Caviar Night....let us know!'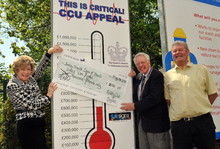 Volunteers
If you would like to become a volunteer helping in our coffee shop or guiding service, please contact June or Pat, volunteer organisers at the League of Friends office on level 2 opposite main reception.
01803 654 520
Donate Now
Thank you for anything you can give, all contributions are very much appreciated.