DAVE & MAC
Posted on: 01st February 2017
WHAT A GREAT DUO
Dave Hanbury does it again with another successful Chish and Fips evening at Hanbury's Babbacombe. Diners were treated to the great musical accompaniment of Mac and his selection of songs from the greats. Once again the Wellswood committee are grateful for the geneoristy of Dave Hanbury in helping to raise over £1200.00 for the League. Our thanks go to all who helped to make this evening such a great success.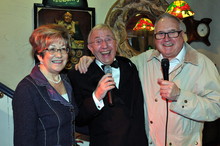 Volunteers
If you would like to become a volunteer helping in our coffee shop or guiding service, please contact June or Pat, volunteer organisers at the League of Friends office on level 2 opposite main reception.
01803 654 520
Donate Now
Thank you for anything you can give, all contributions are very much appreciated.