COUNCILLOR'S DONATION
Posted on: 26th October 2016
Councillor Ray Hill - Chairman of Torbay Council recently attended the League's Celebration Ball where he presented a cheque for £962.65 as part of his charity fundraising during his time in office. Receiving the cheque is Vice President and Chairman of Wellswood district Mrs Lynne Hookings and League Chairman Peter Welch. A huge thankyou from the League as a whole.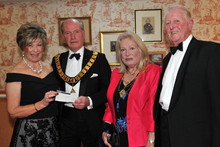 Volunteers
If you would like to become a volunteer helping in our coffee shop or guiding service, please contact June or Pat, volunteer organisers at the League of Friends office on level 2 opposite main reception.
01803 654 520
Donate Now
Thank you for anything you can give, all contributions are very much appreciated.