concert
Posted on: 22nd February 2019
The Torbay and Police Choir and The Morriston Ladies Choir(Swansea) held a concert for us at Central Church on 22nd February. It was a hugely enjoyable concert and it helped to raise over £1375. Our thanks to all concerned.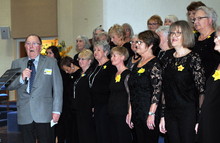 Volunteers
If you would like to become a volunteer helping in our coffee shop or guiding service, please contact June or Pat, volunteer organisers at the League of Friends office on level 2 opposite main reception.
01803 654 520
Donate Now
Thank you for anything you can give, all contributions are very much appreciated.