CHRISTMAS COMES EARLY
Posted on: 15th December 2016
Christmas comes early for Torbay Hospital's new CCU
Representatives of Torbay Hospital's League of Friends joined a giant unwrapping session in Torbay Hospital's new Critical Care Unit (CCU)as the first of the League-funded equipment arrived on site.
The League's hard-working volunteers, in their role as 'partners in care', successfully raised £1.6million to help fund the equipment in the new unit, which is due to open in February 2017. In the first giant box was a Drager Arm, a highly specialised piece of equipment that will be suspended above each bay in the CCU, connecting the essential equipment around the bedside of critical patients. The arm connects the piped gas, electrical monitoring equipment and syringe-drivers essential to the care of the CCU patient.
The League works closely with the hospital's medical professionals to focus their donations in areas that will enhance the care available to the people of Torbay and South Devon. The Drager Arm will benefit both patients and staff; for patients the overhead mounting means that beds, and all of their supporting equipment, can be moved around within the bay, so that they can look out to the world outside; a tremendous boost for patients that may be very weak and facing a long and challenging recovery. It also makes patient care easier for the staff who can quickly meet the patients' needs and move swiftly around the patient, unencumbered by complex floor-based equipment.
Intensive care consultant, and clinical lead for the CCU, Richard Walker, explains the benefit brought by the League's donation. 'The League has kindly purchased 14 Drager Arms and this is part of a long list of high-tech and practical equipment, all of which is focused on transforming good care into excellent care with the patient's wider well-being at its core.'
The League's 'shopping list' for the CCU also included 28 pumps, an ultrasound machine, 2 heamofiltration machines, 14 hi-tech beds including 4 bariatric beds, 14 ventilators, 14 patient monitors and a central monitoring system.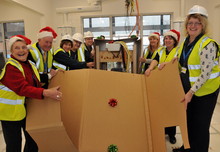 Volunteers
If you would like to become a volunteer helping in our coffee shop or guiding service, please contact June or Pat, volunteer organisers at the League of Friends office on level 2 opposite main reception.
01803 654 520
Donate Now
Thank you for anything you can give, all contributions are very much appreciated.