CHISH & FIPS HANBURY'S
Posted on: 11th February 2015
CHISH, FIPS 'n SEA SHANTIES – WHAT A WHOPPER!
An evening of 'Chish , Fips' and sea shanties raised a whopping £1250 for Torbay Hospital League of Friends £1.6 million Critical Care Unit Appeal.
Dave Hanbury, owner of the award winning Hanbury's fish and chip shop in Babbacombe donated his entire restaurant to host the evening for 50 guests.
Lynne Hookings, chairman of Wellswood district of the League of Friends and organiser of the event, said: 'We're immensely grateful for Dave's generosity. He's always been a great supporter of the League and other local charities, and this time he really came up trumps'.
Also donating their time and talent were the Back Beach Boyz from Teignmouth who kept the guests entertained with their amazing repertoire of well-known and lesser-known songs.
'They were absolutely brilliant', said Lynne, 'and they really made the evening very special.'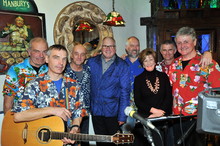 Volunteers
If you would like to become a volunteer helping in our coffee shop or guiding service, please contact June or Pat, volunteer organisers at the League of Friends office on level 2 opposite main reception.
01803 654 520
Donate Now
Thank you for anything you can give, all contributions are very much appreciated.