BIG NOISE CHORUS
Posted on: 05th January 2015
"Big Noise Chorus brings the house down"
A packed St Matthias Church Torquay were treated to a wonderful evening as "Let it Be a Big Noisy Christmas" lived up to its name.
The audience were brought to their feet as the Big Noise chorus performed a mix of popular songs and Christmas carols including the Queen favourite Bohemian Rhapsody.
The evening also showcased the talent and enthusiasm of the young performers from Stagecoach of Torbay and Newton Abbot.
Musical Director and founder of Big Noise Chorus Colin Rea said "It was a truly cracking and outstanding night. You brought the house down"
The concert raised monies for Torbay Hospital League of Friends who recently launched their "It's Critical" Appeal to raise £1.6million for the proposed new Critical Care Unit at Torbay Hospital and League Vice President Lynne Hookings thanked everyone for their support and for a fantastic evening.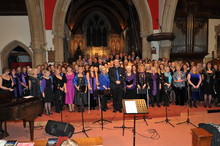 Volunteers
If you would like to become a volunteer helping in our coffee shop or guiding service, please contact June or Pat, volunteer organisers at the League of Friends office on level 2 opposite main reception.
01803 654 520
Donate Now
Thank you for anything you can give, all contributions are very much appreciated.