BARN DANCE
Posted on: 19th July 2016
What a hoe-down was had at the Barn Dance held in July! Hoe-downers were reeling and spinning to the fiddle and accordian playing of The Little Lucy Lastic Band. A fabulous buffet was a welcome break between the dances to re-invigorate for the next round! A very big thankyou to all the Wellswood hoe-downers to who helped to arrange this fun, hot and exhausting night.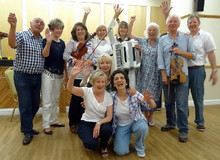 Volunteers
If you would like to become a volunteer helping in our coffee shop or guiding service, please contact June or Pat, volunteer organisers at the League of Friends office on level 2 opposite main reception.
01803 654 520
Donate Now
Thank you for anything you can give, all contributions are very much appreciated.