A THOUSAND THANKS
Posted on: 25th July 2016
A young Mum whose daughter nearly died in Torbay Hospital's critical care unit has said a thousand thank-yous for saving her life. Lynsey Romeo's daughter Mia – now aged 4 - was admitted to the hospital's Louisa Cary children's ward when she was just 10 weeks old.
She was diagnosed with broncolitous and within hours was transferred to the intensive care unit. She was then treated at Bristol Children's Hospital where she underwent several operations including two heart surgeries. 'I really believe that if it wasn't for the care she received in the ICU, Mia wouldn't be with us today. She has been taken to intensive care several times during her young life and the care she received there has always been outstanding. As well as being so professional and skilful, the staff managed to be very comforting and reassuring to me as well as a distraught mother.'
She added: 'I couldn't thank them enough and the only thing I could think of was to raise money for the unit. I managed to organise a fund raising event at PGL Barton Hall where my mother has worked for eight seasons. One of the team members, Iain, hosted the event and local businesses were incredibly generous with donated prizes. It was a fantastic evening and we managed to raise £1,228.'
Lynsey, who is pictured with Mia, along with her sister Danielle and niece Bonnie, said: 'All the money in the world couldn't thank these wonderful people for what they did for me and Mia, so this is just a little thank you from us'.
League of Friends chairman Peter Welch, who is pictured receiving Mia's cheque said: 'This is a wonderful gesture and so typical of the sort of stories we hear every day. Torbay Hospital is a great place filled with hard-working and dedicated staff, and we are privileged to be their main charity fund-raiser.'
The cash will go towards the League's £1.6 million 'This Is Critical campaign to raise money to equip the hospital's new Critical Care Unit.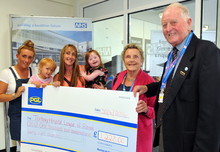 Volunteers
If you would like to become a volunteer helping in our coffee shop or guiding service, please contact June or Pat, volunteer organisers at the League of Friends office on level 2 opposite main reception.
01803 654 520
Donate Now
Thank you for anything you can give, all contributions are very much appreciated.