A NEW FUNDRAISING CHALLENGE FOR THE LEAGUE
Posted on: 20th October 2017
Working with consultant Dr Mark Feeney, Torbay's lead for gastroenterology and endoscopy, we have agreed ambitious plans to raise £1.3m to upgrade endoscopy equipment for three rooms at the hospital.
Dr Feeney explains: 'The endoscopy unit carries out over 10,000 procedures a year...The new equipment will provide high definition images that will increase the detection of pre-cancerous polyps and also help with the early detection of pre-cancer changes.'
The League of Friends in fact bought much of the original endoscopy equipment that saw Torbay establish the first endoscopy unit in the South West and enabled it to provide training for doctors from across the country. We are now very pleased to support the hospital as we aim to provide the next generation of technology for the benefit of patients across South Devon.
As always the challenge of fundraising in difficult times will be enormous and we will need every bit of help we can get. If you are able to support this campaign please contact [email protected]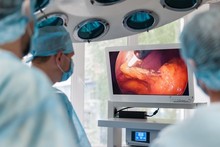 Volunteers
If you would like to become a volunteer please contact Philip White Secretary on 01803298170.
Donate Now
Thank you for anything you can give, all contributions are very much appreciated.