TOPPING OUT!
Posted on: 08th July 2016
A special topping out ceremony took place at Torbay Hospital on Thursday 16 June to signify that the new critical care unit and main entrance build has now reached its highest point.
The exciting £15m project will deliver a brand new, state-of-the-art critical care unit (CCU) with dedicated facilities for relatives. This major investment project will see a 14-bed CCU that will have all the latest technology and equipment required to provide a modern, patient focused environment. The project also includes a warm and inviting new main entrance with a café, a shop and additional public amenities.
The Trust's Chairman (Sir Richard Ibbotson), Chief Executive (Mairead McAlinden), together with representatives from the Trust's League of Friends marked the topping out milestone with a celebratory ceremony on site.
Sir Richard Ibbotson, Chairman of Torbay and South Devon NHS Foundation Trust, said: "I, on behalf of the Trust, cannot thank everyone enough for their hard work and involvement in getting the project to this point – it's fantastic that we can all now see the plans becoming a reality.
Mairead McAlinden, Chief Executive of Torbay and South Devon NHS Foundation Trust, said: "This development has only been made possible by the hard work and support of our League of Friends and the very generous donations from local people who support Torbay Hospital in so many ways.
"Our League of Friends has supported this project from the start, committing to raise £1.6m through the 'This is critical' campaign to equip the new CCU with the latest high-tech equipment. Our League members are our partners in care, and their contribution – all done as volunteers – adds real value to the care we provide. Every patient we treat in Torbay Hospital will have benefited in some way from their work; whether it is from new state-of-the-art equipment, comforts for patients or new artwork to improve the look and feel of a ward.
The hospital's League of Friends has so far raised a staggering £1.4m towards their £1.6m total and they have many more fundraising activities planned over the coming months. Information on the League's 'This is Critical' appeal and how to donate can be found on their website:www.thlof.co.uk/ccu-appeal.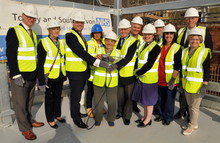 Volunteers
If you would like to become a volunteer helping in our coffee shop or guiding service, please contact June or Pat, volunteer organisers at the League of Friends office on level 2 opposite main reception.
01803 654 520
Donate Now
Thank you for anything you can give, all contributions are very much appreciated.