PAIGNTON LOF
Posted on: 29th February 2016
The League of Friends of Paignton Hospital gives £300,000 to The Torbay Hospital League of Friends Critical Care Unit Appeal.
Having raised over £15m for Torbay Hospital in the past 60 years, The Torbay Hospital League of Friends agreed, as part of its Diamond Anniversary, to raise £1.6m to equip the new 'state of the art' Critical Care Unit. This Appeal has gone out to all the Hospital Leagues of Friends in the area, as it is their residents who will be using the new facilities.
Paignton Hospital League of Friends has voted overwhelmingly to support this new and important project which will benefit the population of Torbay. Their donation will help to equip the new Critical Care Unit at Torbay Hospital.
Corinne Lowe, Chair of Paignton Hospital League of Friends commented:
'Our League was one of the first in the country, having been created when hospitals were nationalised in 1948.
' Over the years tens of thousands of pounds have been raised through events and generous legacies which not only enabled rebuild and refurbishment of the wards, departments and offices as well as vital medical equipment.
'We continue to raise funds for medical equipment and health services both for the hospital services and the community health staff to which enhance the patients experience, comfort and care provision.
'It is with grateful thanks to all who in the past donated to our League of Friends, that we are able to announce that we will be donating £300,000 to the appeal.'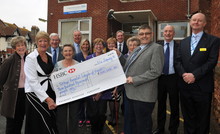 Volunteers
If you would like to become a volunteer helping in our coffee shop or guiding service, please contact June or Pat, volunteer organisers at the League of Friends office on level 2 opposite main reception.
01803 654 520
Donate Now
Thank you for anything you can give, all contributions are very much appreciated.