OLYMPIC EFFORT
Posted on: 01st February 2015
OLYMPIC-SIZED EFFORT FROM OFFICE PALS
Ten carers and office workers from Torquay-based Somerset Care joined together to raise money for Torbay League of Friends by doing a sponsored Olympic torch walk. The torch was hand crafted by one off the staff. The walk started at the comnpany's office on Teignmouth Road and they completed the five mile trek at Appleby's for well deserved refreshments. The event was organised by Claire Davies and between them they raised £430.
PICTURED: Michael Hookings from Torbay Hospital League of Friends receives a cheque for £400 from Somerset Care staff Jo North, Sharna Howard and Sam French.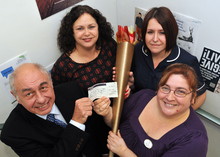 Volunteers
If you would like to become a volunteer helping in our coffee shop or guiding service, please contact June or Pat, volunteer organisers at the League of Friends office on level 2 opposite main reception.
01803 654 520
Donate Now
Thank you for anything you can give, all contributions are very much appreciated.