LINEN LEAGUE 'WOW'
Posted on: 15th March 2015
'LINEN LEAGUE' WINS A WOW! AWARD
The nimble fingered ladies of the Torbay Hospital League of Friends' 'Linen League' have won a coveted Wow! Award from South Devon Healthcare Trust.
The merry machinists meet every week around their sewing machines to produce just about everything the hospital could want.
From curtains to premature baby 'keepsake bags' and breast-feeding aids to fracture slings, the ladies will undertake any task asked of them.
They were nominated by an anonymous admirer, but just about anyone who works at the hospital could have sung their praises.
The citation reads: 'This team of wonderful women led by Rachel Evans are available for ANY needlework project great or small anywhere throughout the hospital.
'Without fuss and with too little recognition, the League gives a service that no other provider could supply.
'Their skills and commitment to the hospital community – patients and staff – is discreet and generous.'
David Rogers, the League of Friends Chairman said: 'Much of the work of Rachel and her colleagues goes unnoticed by the public but those of us who work or stay in hospital know what a fantastic job they do.
'It is wonderful that they have been recognised in this way.'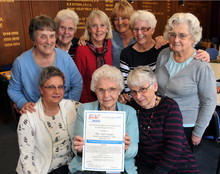 Volunteers
If you would like to become a volunteer helping in our coffee shop or guiding service, please contact June or Pat, volunteer organisers at the League of Friends office on level 2 opposite main reception.
01803 654 520
Donate Now
Thank you for anything you can give, all contributions are very much appreciated.