LEAGUE CINCHES BEST SELLING
Posted on: 30th May 2015
LEAGUE CLINCHES BEST-SELLER FOR GARDEN PARTY
Best-selling author, Lesley Pearse, will be the special guest of Torbay Hospital League of Friends at their annual garden party at The Palace Hotel, Torquay.
Lesley is one of the UK's most popular novelists and her books have sold millions of copies worldwide.
The garden party will be held on Sunday 14th June from 11 am – 4 pm, and admission is £2 for adults payable on the gate.
League President Patricia Roberts said: If the weather forecast is poor we're fortunate enough to be able to move the whole event to the Indoor Arena at the hotel, so it will go ahead rain or shine.'
League President, Patricia Roberts, is seen meeting Lesley Pearse at her recent talk at Torquay Library which was attended by many of her local fans.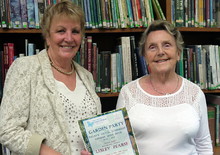 Volunteers
If you would like to become a volunteer helping in our coffee shop or guiding service, please contact June or Pat, volunteer organisers at the League of Friends office on level 2 opposite main reception.
01803 654 520
Donate Now
Thank you for anything you can give, all contributions are very much appreciated.