HALF WAY THERE!
Posted on: 31st August 2015
We are now Half Way to the Target of £1.6million for the new CCU. The appeal has now crossed the £800K line! League Chairman David Rogers is pictured with Trustees at the thermometer outside Torbay Hospital. David said "It is absolutely fantastic and the public at large have really turned out and supported us. We have also had tremendous support from the community hospitals".
Honorary Secretary Philip White said "We are very pleased it is going well and we are slowly getting there".
PLEASE KEEP UP THE GOOD WORK AND SUPPORT US.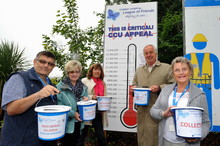 Volunteers
If you would like to become a volunteer helping in our coffee shop or guiding service, please contact June or Pat, volunteer organisers at the League of Friends office on level 2 opposite main reception.
01803 654 520
Donate Now
Thank you for anything you can give, all contributions are very much appreciated.