"FRIENDS" COFFEE MORNING
Posted on: 01st May 2017
"Where would we be without Friends" was the theme of a talk given by Richard Eve - Clinical Lead, and Peggy Christie - Modern Matron both from the new ICU (Intensive Care Unit). They explained that the League's contribution of £1.6million has made a huge impact on the patients care in ICU, and how it is helping all of the staff in their care of these patients.
The coffee morning, hosted by Wellswood District, was held at The Imperial Hotel, Torquay and was attended by over 80 people.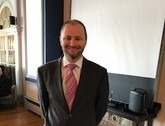 Volunteers
If you would like to become a volunteer helping in our coffee shop or guiding service, please contact June or Pat, volunteer organisers at the League of Friends office on level 2 opposite main reception.
01803 654 520
Donate Now
Thank you for anything you can give, all contributions are very much appreciated.