CCU APPEAL REACHES £900,000
Posted on: 19th December 2015
A Christmas THANK YOU Tea was recently held for League Volunteers at which Chairman David Rogers announced that the "THIS IS CRITICAL APPEAL" had reached £900,000! During the tea Father Christmas was joined by Sir Richard Ibbotson (Chairman Torbay and South Devon NHS Foundation Trust) and Mairead McAlinden (Chief ExecutiveTorbay and South Devon NHS Foundation Trust) to make the Grand Christmas Draw which was the League's latest fund raising event.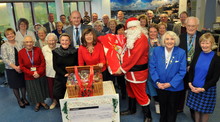 Volunteers
If you would like to become a volunteer helping in our coffee shop or guiding service, please contact June or Pat, volunteer organisers at the League of Friends office on level 2 opposite main reception.
01803 654 520
Donate Now
Thank you for anything you can give, all contributions are very much appreciated.