BOWLED OVER!
Posted on: 15th March 2015
The Palm 105.5 Chairty Bowling night took place on Tuesday 10 March at AMF Bowling Torquay in aid of the Critical Care Unit Appeal. The evening was a great success, enjoyed by all and a total of £1265.15 was raised on the night.
A very big THANK YOU goes to Palm FM and AMF Bowling Torquay for making the night possible and for all the teams who took part and who helped to support the event.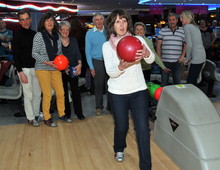 Volunteers
If you would like to become a volunteer helping in our coffee shop or guiding service, please contact June or Pat, volunteer organisers at the League of Friends office on level 2 opposite main reception.
01803 654 520
Donate Now
Thank you for anything you can give, all contributions are very much appreciated.