Post Christmas Fair
Date: 18th January 2018 - 7.30pm
Venue: Horizon Centre, Torbay Hospital
Have a January clear out on us! Bring your any unwanted gifts, pre-loved clothing and good quality bric-a-brac to our Post Christmas Sale and help us raise funds for the League. Remember 95p in every £1 raised goes directly to supporting our charitable causes.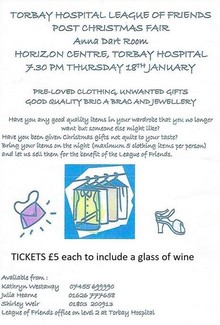 Volunteers
If you would like to become a volunteer helping in our coffee shop or guiding service, please contact June or Pat, volunteer organisers at the League of Friends office on level 2 opposite main reception.
01803 654 520
Donate Now
Thank you for anything you can give, all contributions are very much appreciated.