'Chish and Fips'
Date: 23rd January 2018
Venue: Hanbury's Babbacombe
SORRY SOLD OUT. Yes it's the return of our favourite fishy fund-raiser at Hanbury's Fish and Chip Shop in Babbacombe. ALL proceeds to the League thanks to the generous support of Mr Hanbury.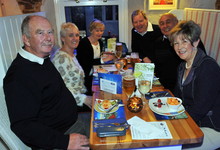 Volunteers
If you would like to become a volunteer helping in our coffee shop or guiding service, please contact June or Pat, volunteer organisers at the League of Friends office on level 2 opposite main reception.
01803 654 520
Donate Now
Thank you for anything you can give, all contributions are very much appreciated.